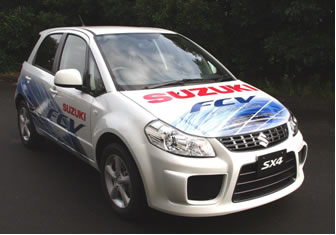 Suzuki Motor Corporation has developed a compact fuel-cell
vehicle
called the SX4-FCV and has received approval from Japan's Minister of Land, Infrastructure, Transport and Tourism to test it on public roads.Suzuki has been developing fuel-cell
vehicles
in partnership with General Motors (GM) since 2001. Thus far, it has tested three fuel-cell minivehicles on public roads with ministerial approval: the MR
Wagon
-FCV and Wagon R-FCV in October 2003 and the MR Wagon-FCV again in December 2004.
The SX4-FCV delivers superior running performance by means of a GM-made high-performance fuel cell, a Suzuki-developed 70MPa hydrogen tank, and a light, compact capacitor that recovers energy during brake application and uses it to reduce fuel-cell loading during acceleration. Suzuki plans to test the SX4-FCV on public roads and use the results in development aimed at future commercialization.
As part of its support for the G8 Hokkaido Toyako Summit, which begins on 7 July, Suzuki will show the SX4-FCV in the Environmental Showcase exhibition and demonstration area at the summit's International Media Center.
Source: Suzuki Motor Corporation
If you are looking for Japanese used vehicles exporters, please visit :
http://www.japanautopages.com/business_type/exporter.php